Harness the power of Gravity Forms and Klaviyo with a single plugin. The Gravity Forms for Klaviyo plugin from CrossPeak Software seamlessly integrates these two platforms, allowing users to automatically send Klaviyo email campaigns based on Gravity Forms submissions.
Our plugin eliminates the need for manual data entry and segmentation, saving you valuable time while ensuring email list accuracy. With Gravity Forms for Klaviyo, you can effortlessly capture user information and preferences directly from your Gravity Forms and automatically add them to your Klaviyo lists.
This plugin enhances user engagement by enabling personalized and timely communication with your audience. You can trigger Klaviyo email and SMS campaigns to be sent automatically when specific form submissions occur, creating a more responsive and customer-centric marketing approach. This level of automation saves time and ensures that your subscribers receive relevant content precisely when they need it, boosting conversion rates and customer satisfaction.
The Benefits of Gravity Forms for Klaviyo Plugin
The Gravity Forms for Klaviyo plugin can be a beneficial tool for any company that uses Gravity Forms to collect leads or customer data. This could include businesses that are looking to:
Automate their email and SMS marketing campaigns
Improve their overall customer engagement
Save time and increase their email and SMS marketing efficiency
Enhance data accuracy and consistency
Segment and target specific audiences
Track and analyze campaign performance
Comply with privacy regulations
In today's fast-paced digital landscape, the Gravity Forms for Klaviyo plugin offers a versatile solution for businesses of all shapes and sizes. It streamlines your email marketing campaigns and elevates your customer engagement strategies. This plugin was designed with SMS in mind. You will be able to create personalized messages without compromising Klaviyo's privacy rules.
Automating data collection and email communication saves valuable time while ensuring data accuracy and compliance with data privacy regulations. The ability to segment and target specific audiences, combined with insightful campaign tracking and analysis, helps you fine-tune your marketing efforts for optimal results.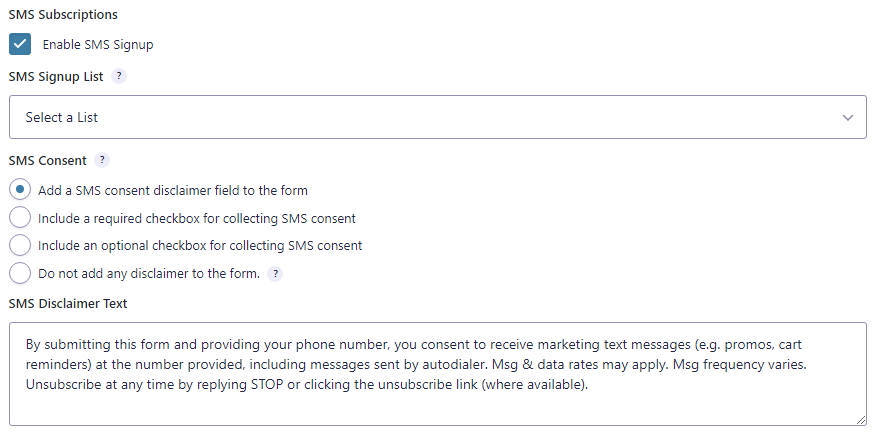 Creating Trustworthy Plugins
CrossPeak Software is committed to creating reliable plugins like Gravity Forms for Klaviyo. Each plugin we make is designed to help businesses succeed. We have a rigorous development process that includes the following steps:
Design: We start by carefully designing the plugin to ensure that it meets the needs of our users and is easy to use.
Development: We then develop the plugin using the latest coding standards and best practices.
Testing: We thoroughly test the plugin to ensure it is bug-free and works as expected.
Security: We take security very seriously and take steps to protect our plugins and your business from vulnerabilities.
Support: Our dedicated team members support our users with questions or problems.
Zero Headache, Zero Spam
We understand that businesses don't have time to deal with plugins that are difficult to use or cause more problems than they solve. That's why we offer no-headache, no-spam plugins. Our plugins are simple to implement and use, and we won't spam you with sales pitches or upgrades.
The Gravity Forms for Klaviyo plugin is a powerful tool that can help your business automate its marketing campaigns and improve customer engagement. Our team is here to answer any questions you might have about plugins — Contact us today!