Easy Digital Downloads is the ideal tool for selling software on your WordPress site. Now with the Klaviyo for Easy Digital Downloads plugin from CrossPeak Software, you can harness the power of Klaviyo email marketing for your business.
Sell digital products with Easy Digital Downloads and market to potential customers through Klaviyo, crafting unique messages that align with your brand and resonate with your customers. Klaviyo's powerful analytics let you easily measure performance and improve your campaigns over time so you can increase sales.
This plugin is easy-to-use, cost-effective, and integrates seamlessly with your WordPress site. Use it to:
Automate email marketing campaigns
Drive and track sales
Keep customers engaged with your brand
Integrate your store with Klaviyo easily. The Klaviyo for Easy Digital Downloads plugin is simple to install and includes features like customer segmentation, pre-built email templates, and more. With this powerful integration, you can streamline your marketing efforts and focus on driving sales.
Start achieving more with the Klaviyo for Easy Digital Downloads plugin from CrossPeak Software today!
At CrossPeak, we understand that good plugins are hard to find — that is why we are committed to making the best plugins available. Each plugin is thoroughly tested and optimized for performance and security.
Built to the highest standards, our plugins are continually updated to ensure compatibility. Download one today and see for yourself. Have a question or a comment? Reach out to our team today!
Thanks,
Matt, Tim, Jess, and the rest of the CrossPeak Software team.
---
WordPress Installation
Download the plugin and install it using the "Add New" menu option of "Plugins" and clicking the "Upload Plugin" button at the top.

After you upload the plugin, your "Installed Plugins" page should look like this:
To activate your license, click the "CrossPeak Software" link under "Plugins."

You can find the plugin's settings by licking on the "Settings" option under the "Downloads" section added by Easy Digital Downloads, and then clicking on the Marketing tab and the Klaviyo sub-tab. You can also go straight to this section by clicking "Settings" under the plugin's name on the Plugin page.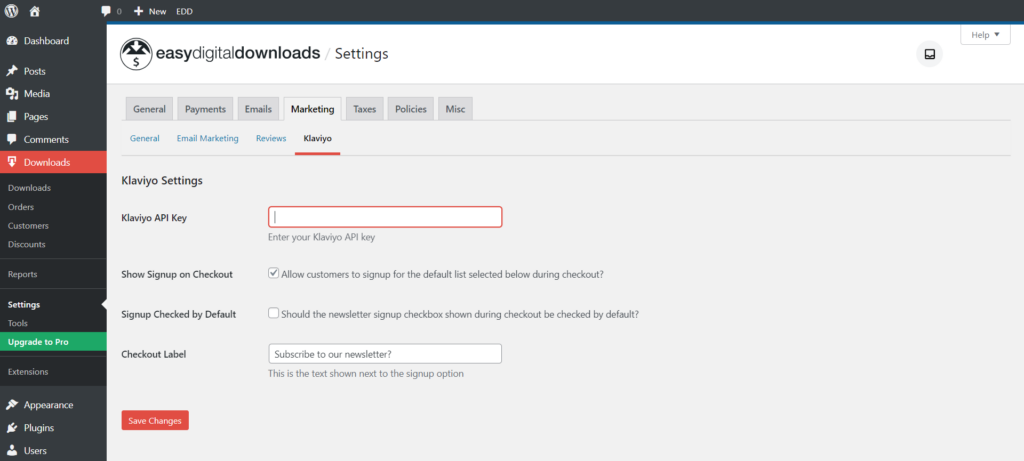 Enter your Klaviyo API key and click the "Save Changes" button to get access to your Klaviyo lists.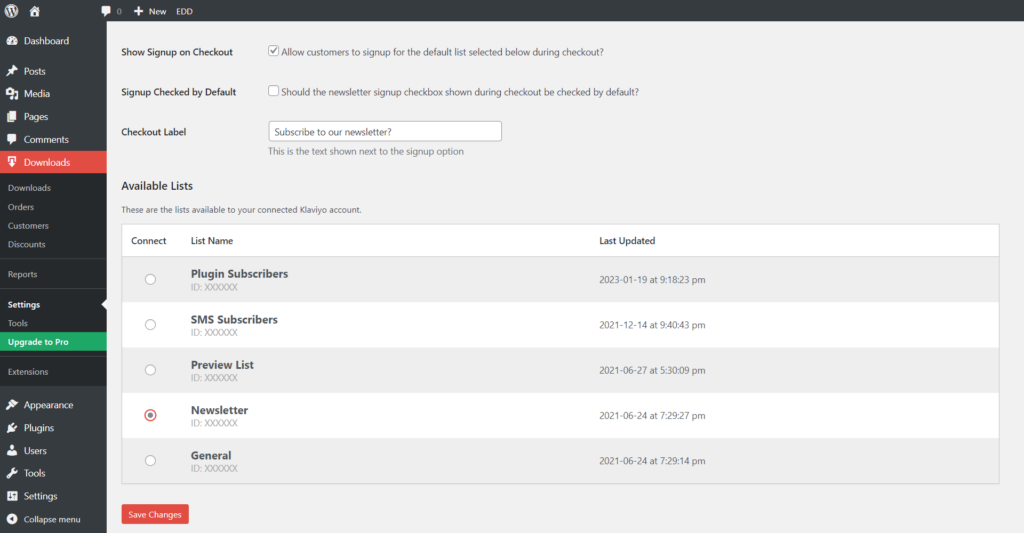 Select the list you want users to be able to subscribe to when they check the subscribe box at checkout.
That's it! Enjoy growing your newsletter subscribers! If you have any questions about using this plugin, feel free to contact us.
---
Related Blog Posts
If you're an online business owner who uses WordPress and Easy Digital Downloads (EDD) to sell digital products, you'll be pleased to know that there's a new plugin that integrates Klaviyo with EDD, making it easier than ever to manage your email marketing campaigns. The new WordPress plugin, Klaviyo for Easy Digital Downloads, allows you …

Continue reading "Announcing: Klaviyo for Easy Digital Downloads"
You must log in to submit a review.