Stay Secure With Gravity Forms Email Blacklist Plugin
WordPress users and business owners agree that CrossPeak's gravity form email blacklist plugin is one of the single most valuable plugins for their businesses. Few things are more frustrating than dealing with a pile of gravity forms filled with irrelevant leads. They're quite simply a waste of your time. That's where our gravity forms email blacklist plugin comes in. It will block any email address or domain that you choose. With our plugin, you can focus on running your business and leave the security to us. This simple yet effective plugin is a must-have for anyone using gravity forms on their WordPress site. With one plugin, you can:
Block individual emails
Block entire domains
Block your competitors
Protect your leads and content
You and your team have worked hard to create forms and content that are constantly working behind the scenes. Keeping competitors' eyes off your lead generators is important. Investing in our email blacklist plugin is an investment in your business. Start protecting your assets today. When you need a reliable way to block emails and protect your business, turn to CrossPeak. Simply download the CrossPeak blacklist plugin, create and input a list of the domains and email addresses to blacklist, and our plugin will do the rest. So why wait? Get started today and see how easy it is.
"Great Plugin. Easy to setup. No more spam!

The ability to use wildcards is a super feature. No more spam from the .ru domain! Thanks so much for this."

From WordPress.org
At CrossPeak, we understand that good plugins are hard to find — that is why we are committed to making the best plugins available. Each plugin is thoroughly tested and optimized for performance and security.
Built to the highest standards, our plugins are continually updated to ensure compatibility. Download one today and see for yourself. Have a question or a comment? Reach out to our team today!
Thanks,
Matt, Tim, Jess, and the rest of the CrossPeak Software team.
---
WordPress Installation
Download the Gravity Forms Encryption plugin on this page, install and activate. It should look like this:
You should then see these options in the Gravity Forms Settings sub-menu under "Email Blacklist."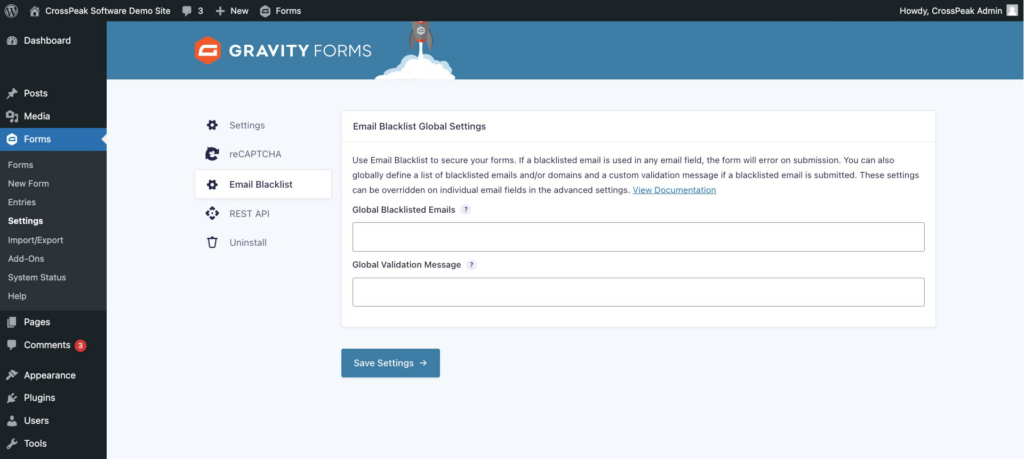 When creating a form, selecting a field and then clicking on the Advanced settings on the right will bring up options for the plugin.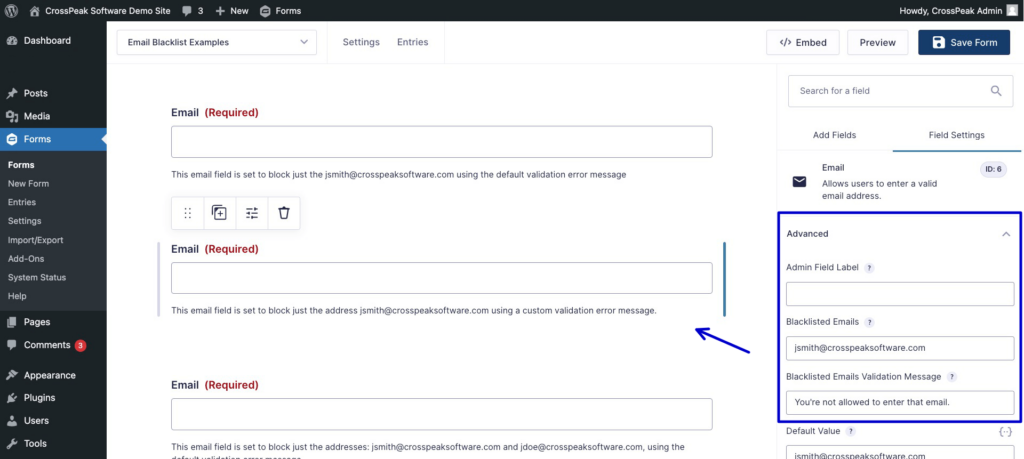 If someone enters an email address that's been blacklisted, this default error message will appear. You can customize the message within the Advanced settings.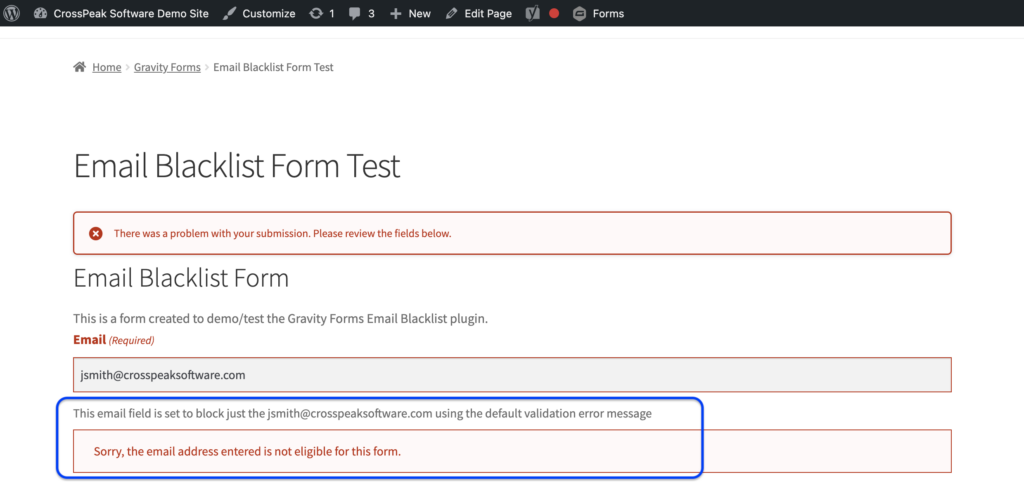 Here's the output of a customized error message: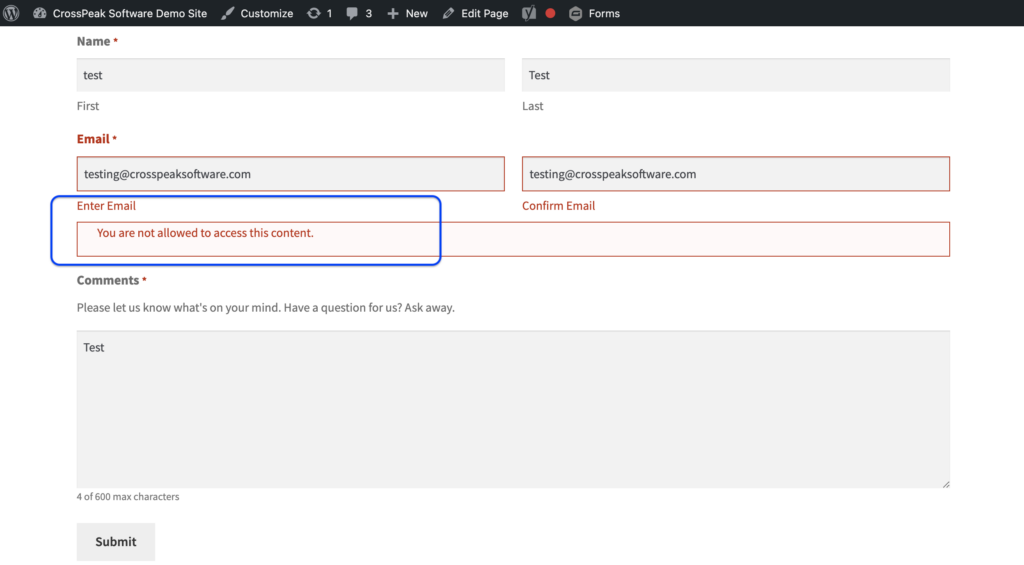 In this example, we see how to blacklist multiple addresses separated by a comma.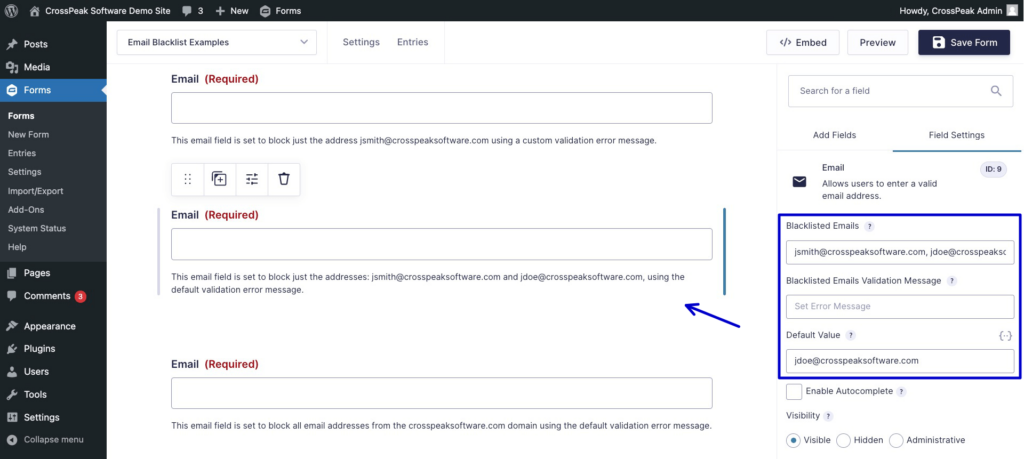 Example of blacklisting the all addresses from crosspeaksoftware.com:

Here we blacklist the entire .com TLD:

That's it! Happy blacklisting. If you have any questions about using this plugin, feel free to contact us.
---
Related Blog Posts
Version 2.5.3 of the Gravity Forms Email Blacklist plugin is a minor release. This cleans up a lot of the language and documentation in the admin settings and README to provide greater clarity and instruction for installing and using the plugin. Changelog

Announcing the release of our Gravity Forms Email Blacklist plugin, a simple yet effective extension to prevent certain visitors from submitting a Gravity Form on your site. This can be done by specifying certain email addresses to block or entire domains to block. You'll also be able to set the error message that displays for …

Continue reading "Releasing Our New "Gravity Forms Email Blacklist" Plugin"